Hey there world!
I hope you´re all having a great day so far! 🙂 I´ll make it quick, here's part 2 of my interview with Jenny:
Oh wait! In case you missed part 1, click here: What do you think, Jenny? (1/2)
Alright, now let's try again:
What do you want out of life?
Enlightenment would be nice for the beginning. 🙂 And until I get this I try to be as useful as possible. I would like to accomplish something valuable, not in a material way but something that is of some use for the people around me. But I am quite open to the way how this will happen. Right now, I just try to take the one step of finishing my studies and then we'll see.
What is your personal approach to make the world a better place?
As I am part of the world I just have to make my surrounding a better place and everything changes. I try to be the kindest person you'll meet today, so maybe you get in a happier state and then your world has already changed. Then you maybe have a nice word to say to the cashier and his mood gets better or you are a little more affectionate to you partner and his world changes, too. It's the little things. I try to be useful and valuable for the things in the world I get in touch with. That's all I can do.
Who or what influenced you and the way you see things? Would you like to thank somebody who did something important for you –regarding that aspect–  without even knowing?
I would like to thank my mother, my sister and my grandmother for raising me the way they did. They were and still are always very important for me and taught me so many things in life. Lots of the things I heard about in Buddhism were just normal for me, because I was raised seeing them as common sense. Having a family that keeps an eye on you and warns you when you begin walking in a wrong direction or sometimes even lets you walk your way, but helps you to find your way back, is simply a gift I am very thankful for.
How would you define the word "Beauty"? What does it mean to you?
There are different kinds of beauty for me. I mostly like the beauty in people, for example this shine in a person's eyes. It's the wrinkles in an old women's face when she laughs or the helping hand for someone in need. A person is beautiful when he/she is a beautiful, useful, honest, open-minded… person and that makes the outside shine. One can be as pretty as possible, but in combination with a bad character this becomes invisible. Something's simply missing.
Then there is the beauty of the "outside", whether you are somewhere in nature or in a crowded city. You can always find something interesting that's beautiful there. Even if it is the graffiti on the wall of an old building. You can find the beauty of a place when you walk through it with open eyes and try not to rush in your daily routine. Then you will see the light that's playing in the small backyard with the door that is usually closed or the first signs of spring on the trees. Or you see a happy couple enjoying their time together and you can be happy with them.
Beauty is something very flexible for me and can be found everywhere. You just need to keep your eyes open and your mind attentive.
What is your motto?
Who thinks about himself, has problems. Who thinks about others, has a mission.
You are neither your thoughts nor your feelings, but you have them. Don't take them too seriously.
If you could give me one piece of advice, what would it be?
Try to find something good in everything that happens to you and in everyone you meet. And if nothing works and you get angry, impatient or whatever, take some deep breaths before you act. But the way I see your quotes and your blog, I think you are already a very positive and joyful person, so simply enjoy life. And just to quote a nice sentence of H.H. the Dalai Lama: "When you think you are too small to make a difference, try sleeping with a mosquito in the room."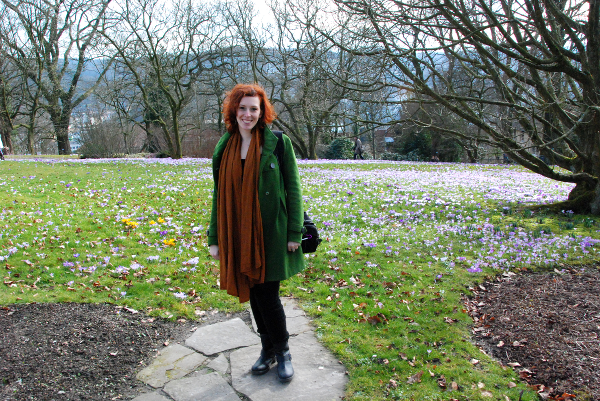 Thank you again, Jenny! This interview, this post, is proof that we should always walk through live with our eyes and hearts wide open – because we never know whom or what we might encounter!
Thank you for reading!
Xoxo,
Caro