Hello World!
First of all: Sorry for not posting anything in a while! It's been busy and I could think of many excuses of why I haven't published anything lately, but to be honest I guess I just did't try hard enough to make the time to write. Which doesn't mean I haven't been thinking about new blog posts! In the meanwhile I got back on track posting on Instagram, and I have talked to many people. More interviews to come, guys!
And you'll be able to read the first one right now. YAY! So here we go:
I met Jenny a couple of weeks ago. I was waiting at the tram station in the morning to go to work and she asked me about the schedule. We started talking and took the same tram into the city, and got off at the same stop. Jenny seemed really nice and she told me some interesting things within those 15 minutes, so I asked her if she would be up for an interview. I was lucky because she said yes and gave me her email address. And her answers are amazing! You can tell from what she has to say that she is a kind, open-minded and curious young lady. I also found out that she studied Art History at the Heinrich-Heine-Universität in Düsseldorf and is currently working on her master thesis – good luck, Jenny!
Alright guys, enough talking, here's the interview:
Who:      Jenny
Age:       28
From:    Düsseldorf
What do you believe in (God/Fate/Good Luck/etc.)?
I believe that everyone is responsible for his/her own life and that you can't blame any God, fate, good or bad luck for anything that happens to you. My life lies in my own two hands and depending on what I am doing with it, it's going to be better or worse. For me, this is simply a question of cause and effect. If I am friendly, open-minded and compassionate instead of being mourning, shouting and spreading my bad mood, my days are going to be more beautiful and I will meet nicer people. From time to time there will always happen something unexpected, and maybe something unwanted – an accident, a breakup, a dismissal – but then one should try to stay relaxed and not sow the next bad seeds for the future. That's what I believe in.
Do you regret anything that you did or that happened in the past?
No, because everything that happened in the past made me the person I am today and I like that person. There are some things I would do differently today because I know better now, but usually I try to do things in the best way possible and when I did something in the past in the way it felt best, it's ok.
Whom do you look up to?
There are many people I look up to for the most different things. A very current example is Roger Willemsen, who died a few days ago. He was such an intelligent man, able to express himself in an understandable but playful way. I liked his open-mindedness and how he approached people without having prejudices. Another example are various family members of mine, but especially my parents. Each of them had to fight at certain points of their lives, but they kept a smile on their faces and always tried to look forward. My mother is a perfect example of taking action and responsibility for her life and for changing the things instead of complaining about them.
I think often it's more an attitude I look up to than a certain person. What I try to develop in myself – and therefore admire in others – is the ability to live in the moment, not discussing the past or fearing the future. Living here and now – only here and only now. That also means to handle the upcoming events or encounters with an open view, trying not to expect something to happen in this or the other way. And believe me, that's hard. 🙂 This is why I look up to the teachers I have in Buddhism like the 17th Karmapa. They try to teach us to see the things how they are instead of how we want them to be. Too often we expect things or people to make us happy and that won't work. If I want to become happy, I have to become it myself, not because I bought a new bag or a new pair of shoes. Of course, I enjoy them too (which woman doesn't?) but this won't last long. As soon as the bag breaks or gets dirty, it's maybe not as beautiful anymore and the feeling changes. If I wanted the bag to make me happy, that is the moment I would become disappointed. This is why I try to become independent from these conditioned things and become a satisfied person just because everything is the way it is. And therefore I look up to all these people who are one or two or even more steps ahead of me, regardless if they are friends, family or teachers of me or even strangers I meet. You never know who will give you some lecture in life. 🙂 Sometimes it is a nice girl you meet at a train station.
What gives you hope and strength in difficult times?
The simple knowledge that this won't last forever. Difficult times come and go and even if I can't seem to see the light at the end of the tunnel, it will definitely be there. And until then I just have to live this one day, this one moment. And usually that is not so hard. It's only the mass of things that seems to be difficult. And when everything becomes too much, I have a beautiful boyfriend, a great family and some friends I am thankful for, with whom I can spend some time to forget about the difficulties for some time.
Who or what motivates you?
I love to learn new things so I am always very motivated when I get the possibility to try something I didn't know before. But when it comes to those long distance goals you have like – at the moment in my case – finishing my master degrees, I try to keep the goal in mind all the time and to enjoy the small steps on the way. I know that if I succeed in finishing my thesis on a special date, I will have some time to visit my friends in Switzerland. For me, that's a reason to speed up a bit and I keep my friends in mind while writing.
Which role does art play in your life?
I believe in art being a natural human want. Humans always tried to express themselves through art, to communicate about history, religion or whatever counts in life. So art is important to understand the mind of a time. I usually handle with art from the 17th century or older, so I can't ask an artist what he thinks about his work. I have to develop my own point of view, simply of what I get to know through the work itself and that is very interesting sometimes. For me personally, art is a research, where I try to discover things and to pass on this information to others. But art is also very fascinating and relaxing for me. Strolling through an exhibition is simply fun, a place where I can enjoy the abilities of the artists. I don't sculpt or paint, so being able to paint a painting as Zurbarán did is incredibly fascinating for me.
Who or what inspires you?
There are so many inspiring people and things in life that the question should rather be who or what does not inspire me. While talking to someone there is always this "Wow!"-moment when you recognize, that this person has a very interesting life. I think I haven't yet met anyone who does not have at least one experience that inspires me, one experience of patience, of strength, of courage or compassion that makes me try to develop this or that ability in myself. You just have to listen to the ones surrounding you and you will find so many inspiring points of view.
What do you think people/the world needs more of?
Sereneness and confidence, compassion and wisdom. People often take themselves a bit too seriously. It would be nice to see them be less stressed, less stressed by themselves.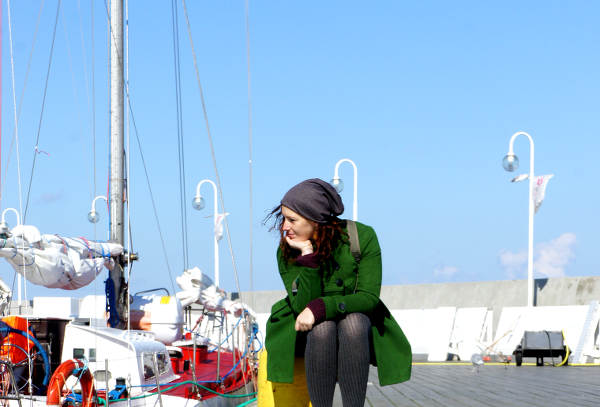 True words, true words. I personally agree with a lot of what Jenny told me! What about you? Feel free to share your thoughts and opinions below.
Part (2/2) will be following soon!
Have a great Sunday everyone!
Caro